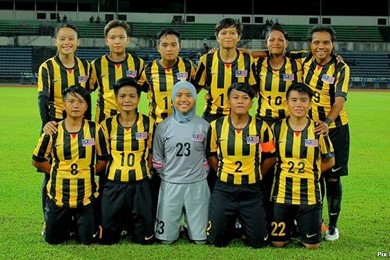 Farah Dhiba / 26 October 2021.
Football is indeed considered the leader of all sports not only in Malaysia but also in the world. This sport is not only played by men, but women also have a deep interest in this sport.
Historically, the sport of football was originally played by Chinese women during the Donghan dynasty. However, Scotland is a country that is elevating the sport of women's football. The women's soccer tournament has been contested since the 1790s in Scotland, and in the 1850s, women's soccer competitions were shown on television screens for the first time in Scotland and followed by England.
In Malaysia, women football was first introduced by Tunku Abdul Rahman Putra Al-Haj in 1960. Perak, Selangor, Negeri Sembilan and Melaka were among the early states involved in a charity football match played as the opening match.
The match is a success not only financially but also got support from the spectators. As a result of the match, Tunku Abdul Rahman request the football state association to set up a women's football team that would be competed in a tournament.
The first tournament was called the Straits Times Cup and the final involved Selangor and Penang in 1961. The Straits Times Cup also received a response from Singapore which sent entries the following year. However, the tournament was stopped in 1965 because the state women's soccer team faced financial problems that have plagued the state football association until now.
However, under the leadership of Tun Sharifah Rodziah Syed Alwi Barakah, a series of friendly matches were held in Hong Kong and the Malaysian team won the entire match. In 1976, the Women's Football Championship was organized by the Women's Football Association and named the Tun Sharifah Rodziah Cup which used the same "Home" and "Away" formats used in the Malaysia Cup. The tournament was participated by 8 teams from Johor, Melaka, Negeri Sembilan, Selangor, Pahang, Perak, Penang and Singapore.
Until now, the Tun Sharifah Rodziah Cup has still been considered the main competition for the women's football team in Malaysia.