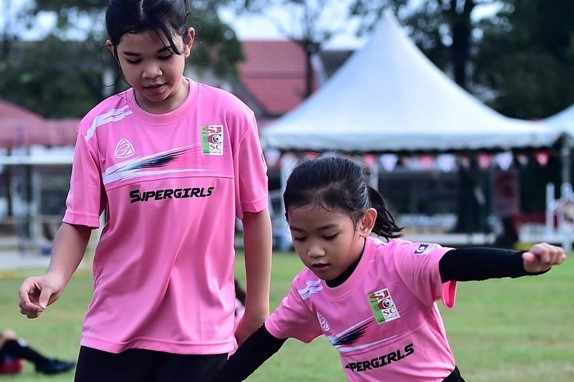 Farah Dhiba / 26 October 2021.
When discussing the development of a sport, definitely the grassroots is the first thing that should be given priority. As the Malay saying goes, "melentur buluh biarlah dari rebungnya". Similarly, we must pay attention to women's football in Malaysia. As China became a product of producing Olympic medals, the effort was initiated by selecting children as young as 3 years old to undergo training at their respective sports academies.
Football roots already exist in Malaysia. Many programs have been done by the Football Association of Malaysia in developing the grassroots in this sport such as Tunas Cemerlang, Suparimau League and many more. The involvement of girls in the sport of football is also seen to be more encouraging from year to year.
Although the involvement of girls in this sport is increasing every year, however, there are not many football academies that are specifically for girls. They have to board a mostly-male football academy. If seen in the Suparimau league, the league provides flexibility on the age of female players joining the league where female players are allowed to play for teams whose age category is lower than their actual age. This is because the ability of female players is not comparable to male players of the same age as her. However, it is a good effort to encourage the involvement of female players in the league which in turn can increase their self-confidence in the sport of football.
Although not many, there are still Women's Grassroots Football Academy that is active in the Klang Valley, that are Supergirls Subang Jaya Community Sports Club and Soccerstar Supergirls Academy. Therefore, it is hoped that football academies like this will continue to grow in the future. Parents also play an important role in the development of women's football in Malaysia. Parents mostly think that football is just a game for boys only and girls are considered inappropriate for this sport. This narrative that we should avoid where we must think football is the same as other sports such as badminton, netball, where all sports have categories of men and women competed.
So, let us together empower women football in Malaysia.